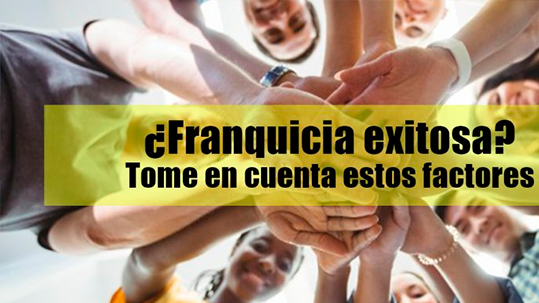 07 Mar

Successful franchise? Take these factors into account

When you want to start a business, there is a lot of information that is handled and therefore it is difficult to discriminate what is most important. Next, we will recommend some factors that you can take into account to start and thus understand if the franchise you want to mount can be successful.

The decision to choose a franchise is not easy, the associated risks are high, the pressure and expectations also and of course, the desire that the business work much more.

In this sense, it is important to have as much advice as possible, in this case we will tell you some recommendations or factors that you can take into account to make your decision easier and to get closer to a successful franchise.

Concept: there is a great variety of franchises, almost in all areas, but the important thing is to choose one with which you feel comfortable and identified, and at the same time it seems innovative.

Location: this point is one of the most important when it comes to franchises, which is why we have emphasized it in previous notes. In general, the franchisor company usually offers advice to choose the location, but it is still crucial to be very careful and rigorous to select a good point.

Establish a good relationship with the franchising company: this will make the process flow much better, the work will be much more pleasant and there will be more possibilities for growth, because they will work hand in hand towards the same objective. Also, you can have access to training opportunities, improvements and innovation.

Brand recognition: make sure that the franchise you choose has a good brand recognition that supports it, that is one of the main advantages of venturing with this business model.

Selection of personnel: good service and a happy customer will always translate into profitability for the business, because people like to feel served and valued. For this you must have a trained staff that offers customers a pleasant experience when they enter the establishment. That is why it is important that you choose people who know how to serve well, that they are kind, and that they are also people of integrity and values, capable of identifying with the company.

We have already talked about the great advantages of franchising, however it is important to take care of as many details to minimize the risks and get as close as possible to a successful franchise.