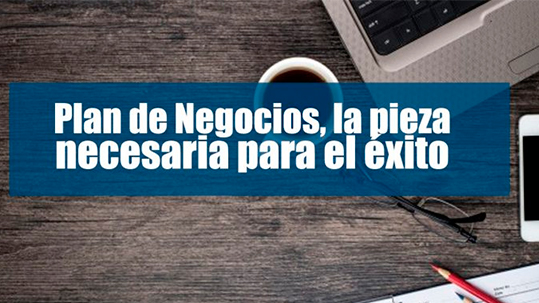 07 Mar

Business Plan, the necessary piece for success

When we come up with a business idea, it may seem bright, but we must study it carefully so as not to rush in and fail in our business.

Why do you need to have a Business Plan? Mainly because its mission is to help the entrepreneur to define his idea, it is the business card to obtain bank financing or financing through investors and / or partners. Studies affirm that 80% of the businesses or enterprises that initiate operations without a business plan, fail.

But, what is it specifically for? today we tell you

1. Set objectives

A business plan helps you get started on the right foot, it tells you how much capital you need to achieve your goals and what skills your team's key players need to get the project going. With a traced route, you can be sure that you are going in the right direction.

2. Have an idea of ​​the costs of the operation

The costs of your operation will not be fixed and as your business grows it will require a new capital investment. A business plan will help you know how much money you need and if it really is worth investing in a certain area, or leave it in the background.

3. Collection of funds

Most mutual funds and banks require evaluating your business plan to decide if it is worthwhile to leave your money in the hands of your company. On the other hand, if it is a matter of borrowing money from family or friends, the best way to raise that amount will be to support you in this work plan so that you communicate the vision of your project in a clear and convincing manner.

4. To have control over your business

A business is controlled the smaller its range of operations, having a business plan will help you to go back, locate what is working, what does not and indicate what can be improved.

If your company converges employees, the implementation of this work tool will be very effective, since you can consult the staff, understand their needs within your facilities and propose a solution. Your employees will value this opportunity to contribute to the business.

5. To clear the picture; copy it and improve it

A business plan is not a document that is created once and must be stored in the drawer. It is a life guide that must be constantly adapted as a business grows and changes. Writing and research to make this work plan generates the opportunity to learn about the industry, market and competitors, in addition to identifying the challenges you can find and develop strategies to avoid or overcome them.

Successful companies review and update their business plan when circumstances change. The most advisable thing is always to review and if necessary, renew the business plan. In the case of societies, evaluating it in a group and brainstorming is a wonderful technique.